BuildFax Joins insurEco System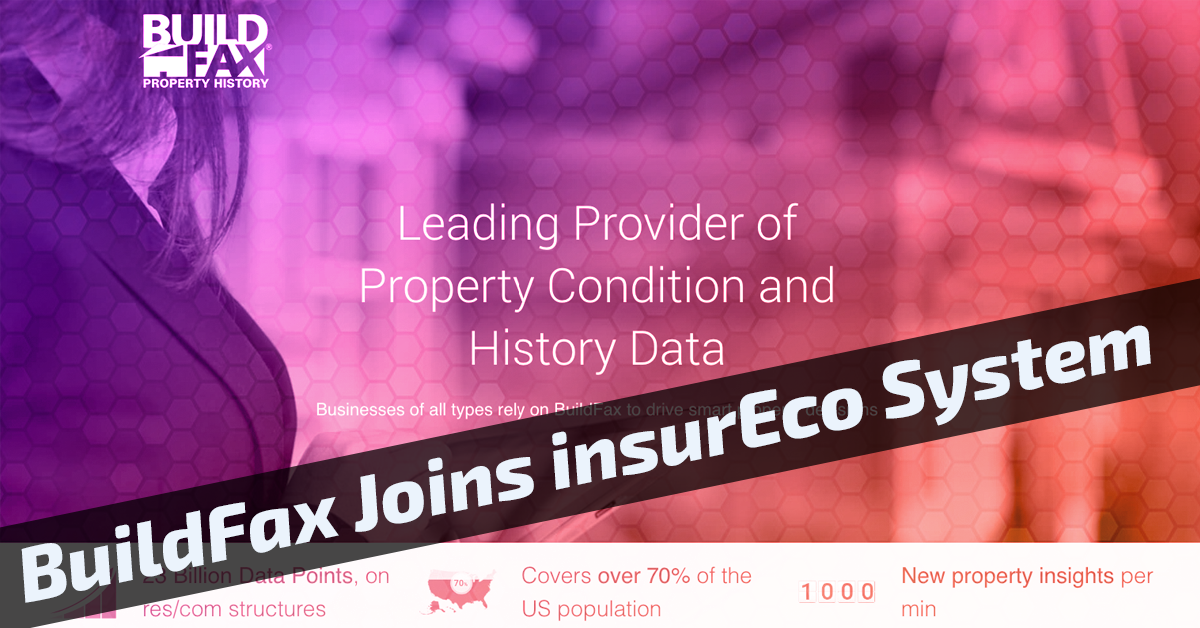 insurEco Expands its Blockchain Enabled Solution with Rich Property Insights from BuildFax
Agents, carriers, and captives will now be able to drive underwriting profitability by gaining seamless and integrated access to BuildFax's powerful risk intelligence data.
San Diego, CA - May 17, 2018 – InsurEco System, the leading insurTech ecosystem, has announced an addition of BuildFax to its fast expanding network of innovation providers. The integration will bring over more than 23 Billion data points on commercial and residential structures to insurEco's blockchain enabled ecosystem for rating, underwriting, marketing, and claims.
BuildFax is currently the most extensive database of building & maintenance records in existence with construction details on over 90 Million properties which is now available for use in real-time rating and underwriting. The enriched data is available on everything from remodeling, solar installations, new construction, roof age, maintenance history, and more.
"Having enriched data available to underwriters and automated processes is a growing trend in insurTech, and we are excited about integrating with an industry innovator like BuildFax," says Derek Lovrenich, CEO - insurEco Systems.
The BuildFax integration will help carriers gain real-time access to detailed risk information which they can easily integrate into their rating calculations or underwriting processes. Programs running on insurEco System's raterSpot will now be able to update and correct roof ages on renewals and price competitively on new business, resulting in premium growth and improved loss avoidance.
"By segmenting properties with a score my underwriters can quickly assess which submissions fit within our guidelines," says Greg Liewald from BindDesk Insurance.
The expanded scope and capabilities of insurEco System reflects a commitment towards a single, transparent ecosystem delivering innovative solutions through collaboration with prominent data and service providers. RaterSpot's "Quote, Bind, Issue" system can bring programs online within 90 days and for less than $10,000 USD. For more information on raterSpot Rating Platform for quote bind issue insurance solutions. More information about blockchain and insurTech is available at www.insureco.io.
About insurEco System
InsurEco is a sovereign group of innovators, brokers, and insurers associated by their own choice and linked with common objectives to promote sustainable change through technology, trust, and transparency. To learn more about visit www.insureco.io.
About BuildFax
BuildFax, headquartered in Austin, Texas, is trusted by the largest insurance and financial companies in the world to deliver leading insights into property decisions. With more than 23 billion data points on commercial and residential structures, BuildFax delivers detailed intelligence and insight into property condition and history. To learn more about BuildFax, visit www.buildfax.com.